---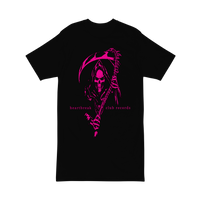 Beautifully designed T-Shirt by Ty Boolin and screen printed with artistic craft in Raleigh, NC. Bringing you the most versatile heavyweight shirt, Shaka's Max Heavyweight is a classic boxy fit popularized in the 90s streetwear scene. This timeless t-shirt is still a statement piece for any occasion.
1 Color Screen print, Front only
*SIZE UP!*

*THIS SHIRT WILL BE SHIPPED WITHIN 2 WEEKS*
100% USA COTTON
Retro look
3.5% lycra mock neck ribbing
Heavy knitting
Slight oversized fit
Recommend sizing up for looser fit 
**Mockups shown are digitalized for website use, products will differ slightly based on screen printing.